Sunny Beaches vs Snowy Landscapes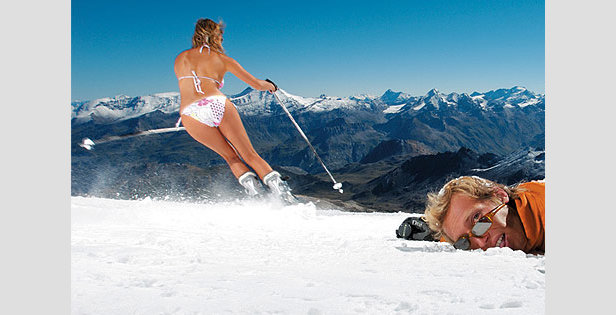 We all know the drill. You get two weeks out of every year and only so much money to spend. You don't want to go to the same place twice but you dread finding yourself somewhere rotten. (And lets not even mention all those overseas weddings you've been invited to.) It all makes for a pretty big decision: where should you go on holiday?
What is a holiday?
Your friends will tell you. The people at the office will definitely tell you. You've known what it is since school, when your best friend's family went to France (or was it Portugal?) and you were still headed for the Tiger Club.
Sunshine and sand. Heat and humidity. All-inclusive but the bug spray. You need time to relax. You need to come back with a good tan so you "look like you've been abroad." A holiday is lounging by the pool, reading a book and drinking sangria.
Did you ever think to try something different? Something a little more exciting?
I've always loved the idea of snowboarding. It wasn't exactly encouraging to fall off a skateboard at every attempt, but I still want to give it a try. I want an experience. I want to feel that rush of almost flying, the fear, the exhilaration. (Okay, maybe the ski lifts aren't that exciting but they're still nice.) I want to have fun. I don't even like the cold but if you're asking me where to spend the summer, I'd go with the winter resort.
What if I hurt myself? Well, they have instructors, they're prepared for newbies. And what's more, your holiday gets better every year. You can't exactly improve your skills at sunbathing. And even if you don't hit the slopes, there's that magic you just don't feel at the beach; the snow, the log cabin, that crunchy sound frost makes when you step in it. They have breathtaking views and a record-breakingly low number of sharks.
Oh, and just between us, the sunshine and the cocktail bar? They have those, too.