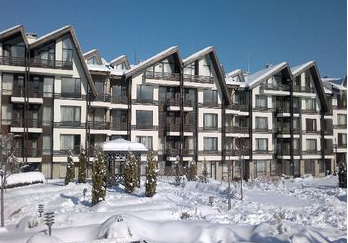 Aspen Resort, Bansko ****
Although located about 7km from the main centre of Bansko the Aspen Resort is still very popular with skiers. Partly due to the spacious modern rooms, or the renowned dining facilities, or the excellent facilities.
The breakfast offers a wide choice of both western and eastern European dishes, hot and cold dishes. It's buffet style so you can fill your boots before hitting the slopes. It's probably worth mentioning at this point that if you're not planning on skiing every day of your holiday (and this isn't as unusual as you may think!) then please be aware that when everyone is out on the slopes it can feel a little lonely back at the hotel. There is a shuttle bus into Bansko that runs regularly  throughout the day, however the last scheduled departure is 6pm and taxis are fairly expensive by Bulgarian standards especially later in the evening.
Internet is available in the lobby area and the restaurants, and depending on which block you've been allocated you may be able to connect your devices when in your room too.
Ranked #16 out of 84 – Trip Advisor
Aspen Resort, area Tsarnako, Bansko 2770, Bulgaria