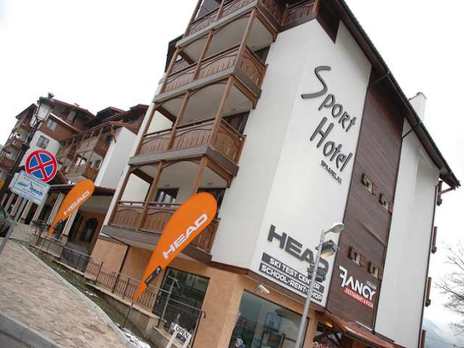 MPM Hotel Sport Bansko, Bansko ****
One of the few genuine ski in/out hotels in Bansko the MPM Hotel Sport is ideally situated for any ski holiday nestled in between the ski slope and the national park, yet only a few strides from the main street. The rooms are large, modern, warm, and some of the largest most comfortable beds in Bansko! Some of the rooms also have excellent views of the Pirin mountains so it's worth asking for one of these at check-in as you can sometimes be upgraded for no extra cost. The rooms are also well-equipped and although there is Wifi in the lobby area of the hotel it's a little hit and miss in the rooms. They do however have ethernet cables so you can connect your laptop to the internet.
Our guests tell us that the restaurants serve a really wide variety of dishes, a mixture of Bulgarian and western European dishes and the quality is also rated highly. In fact the quality of the food is the main reason why people return to the MPM Sport. There's also a popular Irish pub which has some of the cheapest prices in Bansko – if you're after value you can even head across the road to the supermarket where goods are even cheaper!
There are also 2 swimming pools – one of which is designated for children, and a Spa, sauna, steam room, and Roman bath which are free of charge if you're staying at the hotel. Most hotels in the resort have these facilities however at the MPM Sport they really stand out and are frequently used by guests after a hard day on the ski slopes. Although this hotel is slightly more expensive than some others nearby if you're into your treatments or even just relaxing then it's worth staying here.
Ranked #14 out of 93 – TripAdvisor.
MPM Hotel Sport Bansko, Pirin Street, Bansko, Bulgaria