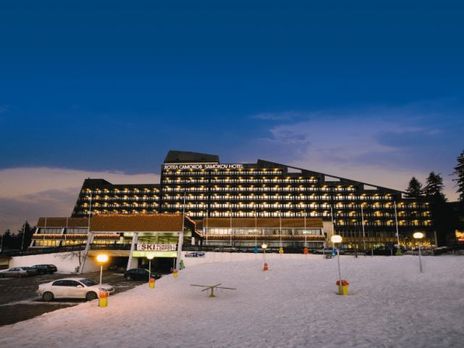 Samokov Hotel, Borovets ****
The Samokov is a large hotel which has a great position right next to the gondola in Borovets and also has its own ski depot so everything is conveniently located for your ski holiday. The hotel has renovated its rooms recently so things like the bathroom and the carpets have all now been replaced. The feedback that we receive from our guests regarding the food is that although it's not top-end its perfectly acceptable. Breakfast consists of the usual cereals, fruits, or full-english, and the evening meals have a good variety of hot and cold dishes. There is also a pancake bar that serves all day. Even guests on full-board tend to eat out for a couple of nights as the nearby restaurants are such great value. Most 3-course meals can be bought for less than £10 (including wine/beer) and the atmosphere tends to be a bit more lively.
The overall view on the Samokov is that it's very middle of the road, not luxurious but perfectly acceptable – it does a job. The guests that it tends to attract just want somewhere comfortable to sleep and some decent food to eat, and a good price. It doesn't have many frills but then you're not paying for any either. Having said that, it does come with a fully equipped spa & sports centre within the complex itself. Facilities include a heated indoor swimming pool, free Wifi in the lobby, gymnasium, and massage and therapy sessions (which are paid for locally).
We offer the Samokov Hotel on a bed & breakfast or half-board basis only.
Ranked #16 out of 29 – TripAdvisor
Samokov Hotel, Main Street, Borovets 2100, Bulgaria