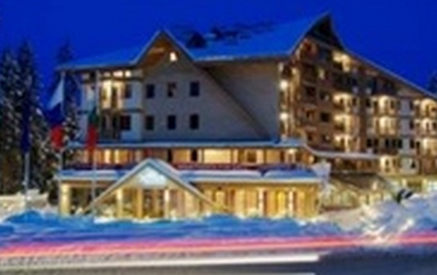 Iceberg Hotel, Borovets ****
The Iceberg Hotel has gone through a period of modernisation of late as many guests were complaining that the hotel had become tired, it certainly hadn't been renovated for a number of years but you should now find that the majority of bedrooms and the hotel in general are to a much more modern standard. It's located about 8-12 minutes walk from the main ski gondola so the hotel has a more friendly and quiet feel than the larger hotels in the centre of Borovets.
Rooms tend to be spacious and clean, without being luxurious. The complex has a small swimming pool, games area (pool etc.). The restaurants offer a fair choice of food although the opening hours can be a little constraining. The most negative aspect of this hotel (and it's something that the management are aware of) is the manner of their staff. We do receive a few complaints about the way that they are perceived though it is likely to be a cultural misunderstanding as much as anything else. However we feel it's something that you may need to be aware of.
Ranked #22 of 29 – Trip Advisor
Iceberg Hotel, No. 63, Borovets 2300, Bulgaria