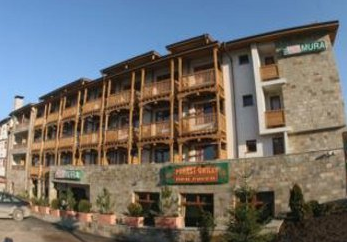 Mura, Bansko ***
Although the Mura Hotel is ranked as a 3* it enjoys good reviews from all our guests who stay here, many of whom are repeat visitors. It's located 20 minutes walk from the main gondola and many guests walk this distance as it's a pleasant stroll and you're able to leave your ski equipment at the gondola station in Bansko.  Alternatively there is a shuttle bus between the hotel and the resort centre.
Facilities of the Mura Hotel include Spa, a massage centre that is very good value, sauna, Jacuzzi, steam rooms, and a large drying room for your ski gear.  And as you enter the hotel you're welcomed with a roaring log fire which is a great space to spend an evening after a hard day on the ski slopes.
Breakfast is a hearty affair and consists of a good selection of fresh fruits, juices, cereals, and cooked meats and vegetables.
The staff have a great reputation for going the extra mile and helping guests throughout the stay. And the rooms are warm and well looked after as well as being cleaned daily. There is also good Wifi coverage throughout the hotel including the rooms. There is however no free security box in the rooms so you will need to pay a small charge for this at reception if you wish to use one.
Ranked 18 out of 97 – Trip Advisor
Mura Hotel,  39 Glazne Str, Bansko 2770, Bulgaria