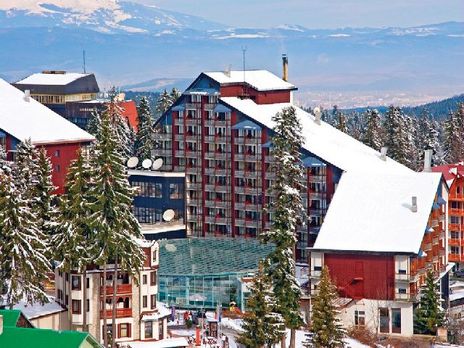 Rila Hotel, Borovets ****
The imposing Rila Hotel is a huge complex situated, as the name suggests, at the foot of the Rila Mountain right on the nursery ski slope and within touching distance of the main ski gondola in Borovets. Due to its size it sometimes receives criticism that the staff aren't as personable as some other smaller hotels, however it usually wins when it comes to pure convenience as it is literally ski  in/out. If you prefer a quieter room then ask for one at the back of the hotel, or if you'd prefer a view of the slopes (including the amazing night-skiing) then ask for a room at the front.
There's a huge amount of choice at mealtimes (there has to be with so many guests!) which is served in the usual buffet style. They also provide supper if your arrival time is after the restaurant closes (10pm) – you won't go hungry during your ski holiday at the Rila.
Each room has a TV which is linked up to the ski runs so you can  check  out how busy the runs are, or admire your fellow skiers. It's also useful to check the conditions before you head up the mountain. The Rila Hotel has it's own ski school and depot so you never have to stray too far from the hotel during your entire stay if you so wish.
The hotel complex is well-equipped with a heated indoor swimming pool, gymnasium, and a Spa & beauty salon – a well-earned rest after a long day on the ski slope. And all the rooms have been modernised so that they now reach the 4 star rating that this hotel has achieved.
We offer the Rila Hotel on a half-board basis only.
Ranked #10 out of 29 – TripAdvisor
Ria Hotel, Borovets 2010, Bulgaria