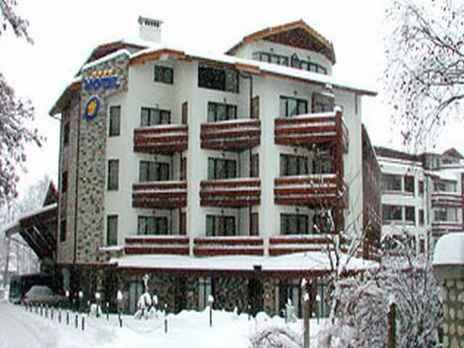 Orphey Hotel, Bansko ****
The Orphey Hotel is at the lower end of the budget spectrum but it's well known for being a good value if not fairly basic option within Bansko. Feedback that we receive from our guests who have just returned from their ski holiday include good-sized rooms, better than average meals, and pleasant staff. On the downside, it's a little further from the main gondola than some of the higher priced hotels, roughly a 20 minute walk to the main gondola (although it is conveniently located for Bansko Old Town which is better for sight-seeing and good cheap restaurants), and unusually for Bansko the minibus service which departs each morning at 0930 and runs every 20 minutes thereafter.
Facilities-wise, the Orphey comes complete with the usual heated indoor swimming pool, 3 types of massage parlour, and a Spa. There is Wi-fi throughout the hotel, admittedly it is better in the hotel lobby than in the guests rooms. The hotel also offers a games area which includes pool/billiards, table-tennis, and also a dedicated play-room for younger children. However please be aware that some of these attract a charge which can be seen as quite expensive when compared to other aspects of the general economy. All of the rooms have a TV (although these are currently the old TRT style) however there are only a handful of English-speaking channels.
Breakfast is served from 0800 each morning and offers a wide selection of hot and cold dishes, dinner is erred from 0700. Drinks (other than water) are not included in any of the meal plans although they are quite cheap, the price for a beer or a glass of wine is roughly £1. During late-afternoon if you're back from skiing a little early then there is tea and cakes served in the main lobby area.
Ranked #66 out of 93 – TripAdvisor
Hotel Orphey, 2A Banio Marinov Str

,

Bansko 2770

,

Bulgaria