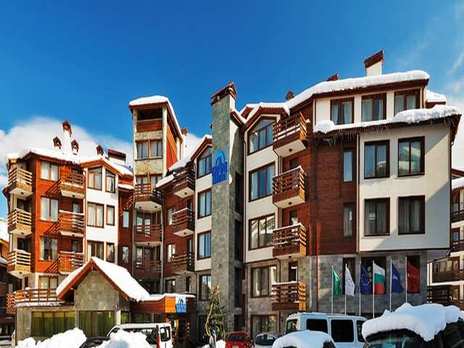 Grand Montana Hotel, Bansko ****
The Grand Montana is linked with the Belmont Hotel although we find that this is the much better of the two. The apartments are clean and spacious, a decent breakfast, good powerful showers, and generally very good value. Although it can be a little basic it ticks all the boxes for your ski holiday.
It's location is on the edge of Bansko so there is a little walking to do, it takes about 10-15 minutes to get to the resort centre. Alternatively there is a regular free shuttle bus that takes 5 minutes or so, or reception will book you a taxi for £2 each way.
The rooms are equipped with hob/oven, kettle, microwave, and a fridge. There is also free wi-fi   in the lobby area.
There are better quality hotels in Bansko, although you will pay more for these. We tend to find that this hotel is preferred by the budget skier who likes to spend their money on other aspects of their ski holiday!
Ranked #32 out of 93 – TripAdvisor
Grand Montana Hotel, Georgi Nastev St., Bansko 2270, Bulgaria