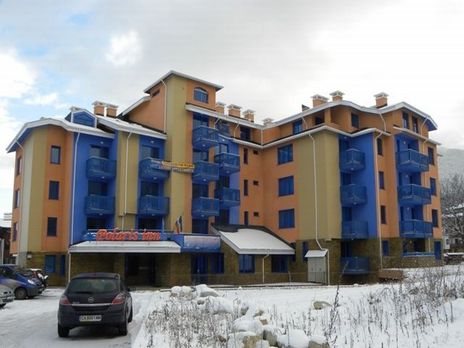 Polaris Inn Apartments, Bansko ****
The Polaris Inn is perfect place to stay for the budget skier who wants somewhere modern, clean, and close to the gondola but would rather spend their money on things other than accommodation. It's located only 80 metres from the main ski gondola in Bansko and close to the old town part of Bansko where all of the decent and very reasonably priced restaurants are located directly beneath the Pirin Mountains. It's set back slightly though form the main road so you don't need to content with the noise of any late night revellers. If you do prefer to eat nearby then the Victoria which is located next door does very good meals, so good in fact that you are recommended to reserve a table which is practically unheard here in Bansko.
Yes, it's basic, so you won't find mod-cons in your room but it's good enough, think Ikea decor or a renovated Travelodge. Rooms are cleaned daily and towels are changed, and there is also free Wifi available in the lobby area and the restaurant.  The rooms do come with a kitchenette and there is a cheap supermarket about a minutes walk away so you can prepare meals within your rooms if that's more to your taste – particular handy if you have young skiers in your group.
The Polaris Inn as many hotels in Bansko do, offers an indoor heated swimming pool and a Spa centre. We're not talking Olympic standard here but it's perfectly fine if you fancy a quick dip or some relaxation after a day on the ski slope. There's also a sauna available to guests although there is a small charge for this which is paid locally.
The staff at the Polaris are well-trained and that's reflected in the feedback that we get from our guests. Language can sometimes be a barrier in Bulgarian ski resorts but this appears to be less of a problem at the Polaris.
Ranked #30 out of 84 – TripAdvisor
Polaris Inn, Gramadeto Area, Bansko 2770, Bulgaria