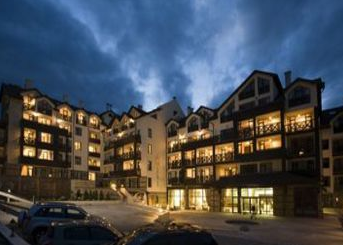 Premier Luxury Mountain Resort, Bansko *****
This is without doubt one of the finest hotels in Bansko and consistently receives great reviews from all of the guests that we send here. The Premier Luxury Mountain Resort is geared more towards families and couples than the party crowd. It's only a 10 minute walk from the slopes, shops, and restaurants or there is a free shuttle bus every 10 minutes between 8:00am and 5:30pm.
Most impressive is the hotel restaurants which is many guests compliment as being superb and offering a good selection of excellent dishes, even for children or those with allergies. There is a buffet available and also an a la carte restaurant which we recommend you make a reservation with as soon as you arrive. The breakfasts which are so important before you head out onto the slopes are also one of the top-rated in Bansko, including bacon and eggs, cereals, fruit, and pastries.
The Premier Luxury Mountain Resort itself has the usual facilities that you can expect from a hotel in Bansko, including swimming pool, Spa, massage therapy, sauna, steam room, and outdoor Jacuzzi.
The rooms are excellent, well decorated, large and light. And the staff keep them spotlessly clean throughout your stay. Wifi is available throughout the hotel and is free of charge.
Ranked 4 out of 97 – Trip Advisor
Premier Luxury Mountain Resort, 11, Karamanitza Str. | Gramadeto area, Bansko 2770, Bulgaria