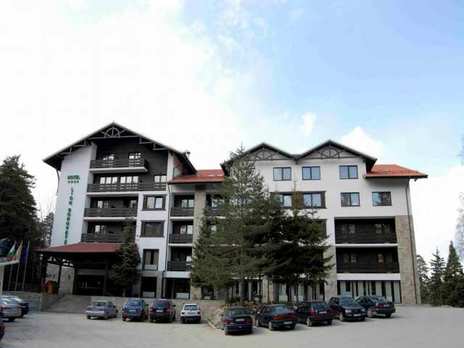 Lion Borovets Hotel, Borovets ****
The Lion Borovets is a quaint little hotel located at the foot of the Rila Mountain. Huge rooms and daily maid service feature highly in the feedback that we receive from our guests. It's a little further out than many of the other hotels, about a 10 minutes walk from the centre of Borovets, so there are free shuttle buses to the slopes every 20 minutes from 0830 until 1800, or a taxi costs only £4. Because of this the hotel has an excellent restaurant and a cheap bar. For those that prefer a bit of peace and quiet away from the bars and restaurants then this is a perfect hotel and receives a high proportion of repeat bookings each season.
The hotel is very well equipped with its own heated indoor swimming pool and Spa & beauty salon – perfect after a tough day out on the ski slope. There is fast wifi although this tends to be stronger nearer the main hotel lobby although they are looking to extend this throughout the hotel.
We offer the Lion Borovets on a bed & breakfast or half-board basis only.
Ranked #3 out of 29 – TripAdvisor
Hotel Lion  #21, Borovets 2010, Bulgaria