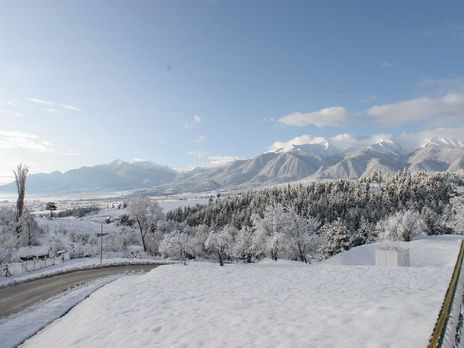 Katarino Resort & Spa, Bansko *****
As well as a top-end hotel for your ski holiday the Katarino is also well-regarded as a year round spa accommodation. It has beautiful rooms with great views located in an area of outstanding natural beauty with nearby hot mineral spas and peaceful surroundings. The complex has a very good swimming pool (with an outside extension that has mountain views), decent Wifi in the lobby area, and of course an outdoor spa (treatments cost extra) which seems to be a great way to end a day on the slopes. Due to it's relative isolation it's too far to walk into Bansko so there are regular buses, or a taxi costs about £12 and takes 10 minutes.
The restaurants receive good reviews and is well known for it's burning wood fires which add to the ambience.  Half-board is recommended as there are not too many restaurants nearby and the meals are relatively expensive if bought outside of one of the meal plans.
The Katarino is particularly good for children with lots of activities for them, and due to its location away from the main resort it's very safe. This hotel is aimed at those who may not ski for the entire week, or for groups where not everyone will be on the slopes.
The downsides that we hear are the staff, a little seems to be lost in translation as their English isn't the best, and sometimes this can be viewed as being a little sully or on some occasions rude.
Ranked 4 out of 11 hotels – Trip Advisor
Katarino Hotel & Spa, Katarino locality, Razlog, Bulgaria