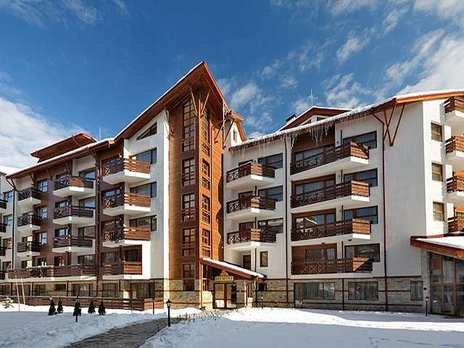 Belmont Residence, Bansko ****
The Belmont Hotel (part of the same building as the Grand Montana) is a little bit of a walk from the centre of Bansko (10-15 minutes) it's easy enough to store your ski as many of the local shops will do this for free so you don't have to them carry to and fro each day. There is a free minibus available to all guests if you're simply tired from your day skiing, this only takes 5 minutes to get to the gondola.
The food at the restaurant receives an average rating from our guests as it can be a little repetitive, although there are many good and cheap restaurants between the hotel and the centre to break it up. Breakfast consists of cereal, yoghurt, toast, cakes, coffee, teas, and juices.
The rooms are basic however they're all modern, clean, and well heated. Towels are changed daily and bed linen twice a week. The hotel has the usual sauna, steam room, and swimming pool available to its guests.
Overall this is a fairly basic hotel with few frills, although it is priced accordingly and does allow savings which can be spent elsewhere on your ski holiday.
Ranked #47 out of 93 – TripAdvisor
Belmont Hotel, Georgi Nastev St, Bansko 2270, Bulgaria