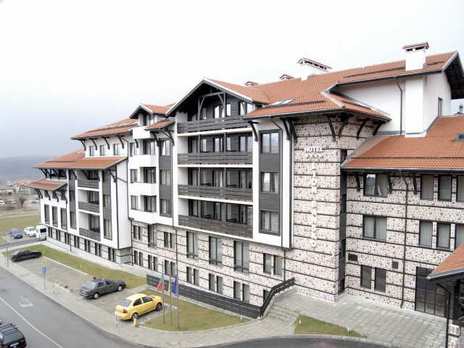 Lion Bansko, Bansko ****
According to the feedback that we receive from our guests this is one of our favourite hotels in the whole of Bansko. Great staff, large rooms, and an excellent restaurant are all reasons why a lot of people repeatedly spend their ski holidays here.
Located a 10 minutes walk from the ski gondola, there are 2 shuttle buses that continually ferry guests back and forth so you never have to wait more than a few minutes before departing. Being a short walk from the resort centre ensures that it's a little more peaceful at the Lion Hotel than some other hotels without being so far that you can feel isolated from the nightlife.
The restaurant serves a good variety of food, including a daily pizza option, a salad bar, hot soups, meat, fish, cakes, fruit etc. In the lobby you can also eat pancakes and other snacks. There's also a lobby bar that's well-served and with large fires is a nice place to relax after a day skiing, a large beer is just under £2. Wifi is available throughout the hotel although it tends to work best in the lobby and reception area.
The spa area has it's own swimming pool (although reports are that it can be a little cold), steam room, and massage (this carries an extra charge), so there's something here for non-skiers or if you just fancy a change of scenery.
Most of the rooms are a lot larger than people expect, and are well-furnished. It's worth noting there is no kettle in the rooms so if you like a brew then you may want to think about bringing one with you. All of the bathrooms have newly installed showers which nearly knock you over!
Ranked #14 out of 93 – TripAdvisor
Lion Hotel,  Georgi Nastev Str., Bansko 2770, Bulgaria