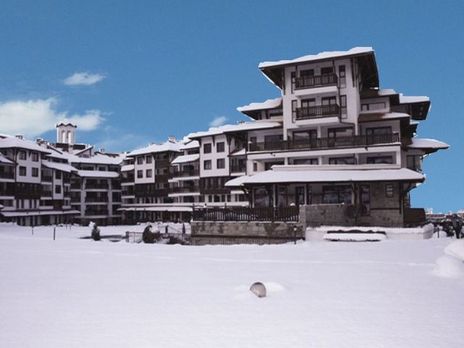 Bansko Royal Towers, Bansko ****
Bansko Royal Towers are less of a hotel and more of an apartment complex, so you tend to get a lot more space for your holiday money – the apartments are the largest we have seen in Bansko and very well-heated. This particular complex is one of the recent builds so it's modern in style. Most of the apartments are self-catering with their own kitchen area, and there are quite a few decent restaurants all nearby and the Ski Mania shop right next door. It's also only a few minutes to the ski gondola (200 metres) so in terms of location you'd be hard-pressed to find somewhere better to stay during your ski holiday.
We hear from our guests that there are some issues though, there is limited wifi available, in that it tends to be restricted to the lobby area or the rooms nearby. Having said that you can ask for an ethernet cable for your room. The breakfast also isn't one of the best in Bansko (cheese, meats, and pastries) and it's fairly expensive if you choose to pay when you arrive, if it's not to your satisfaction then we're recommend using the local Carrefour supermarket and stocking up on supplies yourself.
Our guests receive free access to the Wellness Centre offering full spa facilities (indoor and outdoor pools), Jacuzzis, saunas, Turkish bath, and gym). A variety of wellness packages including massages, facials, manicures etc. can be booked for an additional cost.
In summary, this is one of the cheaper places to stay in Bansko, and one of our  most popular. Although clean and modern and in an excellent location it is also no-frills, and it seems people are more than happy to spend their money on apreas-ski rather than their accommodation which makes perfect sense to us!
Bansko Royal Towers, Yavor Str, Bansko 2770, Bulgaria
Ranked #30 out of 93 – TripAdvisor