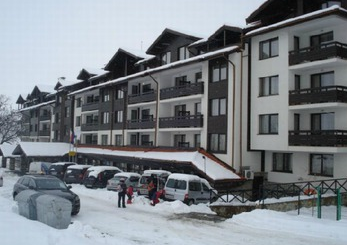 Sunrise Park & Spa, Bansko ****
This hotel tends to receive mixed reviews from our guests who choose to stay here during their ski holiday, there are some good things, and some  not so good things. Let's start with the positives first…
The location is very good, only a 5-8 minute walk to the gondola and also nearby to the Carrefour supermarket so handy for supplies. Even though its a host distance to the ski slope the hotel do provide a shuttle bus which can be useful on the way home after a day of hard exercise. There;s also a ski depot next door so it's easy enough to collect and drop off your skis.
The rooms on the whole tend to be warm (some people say too warm!), large, and clean. Not luxurious but considering the price more than adequate. There is also a swimming pool (albeit a little small), Spa, and sauna which is free to all of our guests.  There is also a free gym but it's not up to the standard you might expect back home, there are a few machines however it's largely free weights.
And now on to the not so good, which is primarily the breakfast. Although there's quite a lot of variation the quality does not seem to be up to western European standards. This mostly involves the food not being hot enough for western tastes. On the plus side there are numerous cheap and good standard restaurants nearby where the majority of guests eat out. You also find that the standard of English at the Sunrise could be improved, which isn't a problem most of the time but can cause problems if something goes wrong, it's always a good idea to take a phrasebook just in case.
Ranked 34 out of 93 – Trip Advisor
Sunrise Park and Spa Hotel,  Parcaleto Area, Bansko 2770, Bulgaria